Wolf-Dietrich Poralla was born in Grünberg, Silesia. His mother was the first harpist, his father percussionist in the Dresden State Light Orchestra. He studied piano and harp with Reinhold Lange and Madame Siegert-Brandner. Following instructions from the Master Harp builder Obermayer in Starnberg, he commenced his training as a harp maker at the unified comprehensive school with practical experience in Berlin and Saarbrücken. W.-D. Poralla worked at Spenke & Metzl, the Dresden Apparatus Design and Manufacturing Company, making kettle-drums, drums, xylophones, and tubular bells, whilst simultaneously training as a mechanic at the apprentice workshop of the Dresden Typewriter Factory.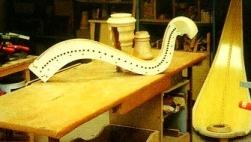 After completion of the Master Craftsman examination, he set up a workshop together with the harp builder Kube from Dresden. This venture, however, met with economic difficulties and failed. So W.-D. Poralla continued working for the Dresden Apparatus Design and Manufacturing Company, spending three years as Technical Manager, then, after the takeover, as Works Manager. After the factory was nationalised, Wolf-Dietrich Poralla was Factory Director of VEB Schlaginstrumentenbau Dresden. He completed an Open University Course in Economics run by the Technical University Rodewisch. In 1977 he handed in his notice and left his employer. On 1.4.1978 he founded the Master Harpmaker's Workshop in Radebeul, afterwards completing a gilding course in 1979 at the college of Plastic Arts in Dresden.
So far, customers and contracts have come from far and wide - from Germany, Scandinavia, Belgium, Bulgaria, France, Italy, Morocco, the Netherlands, Austria, Poland, Switzerland, Turkey, Hungary, Croatia, Russia, the United States of America and Japan.